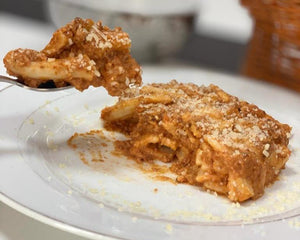 Pasta Al Forno
All our ready meals pasta is ready to eat !
The warmth of the family is rediscovered with our baked pasta, prepared according to the ancient recipe of the mother.
To get the best of it, you can either defrost our Pasta or use it frozen as follows:
Defrosted: reheat it in a microwave for 1-2 min or in the oven for about 7-8 min
Frozen: put it directly in to the microwave for about 8 min.
Shelf life: 1 year
Quantity: About 340 grams